Hello My Movievaures! I hope you had an amazing week. I know, you migh be surprised by the title of this article as I said last week that I was going to write about Tenet. Unfortunately, I wasn't available this weekend to go to the movies. So I'm pushing TENET's review for next week. I hope you will not hate me too much.
Anyways, today I will be talking about Euphoria, à teenager drama way more intense than I expected. I know I'm quite late as the first season was released last year and the next one will not be available until 2021. Nevertheless, as there are so many shows and movies to watch I never had the time to catch-up on this one until I decided to download the whole season and watch it while I was completely offline in France countryside.
It is a show that actually surprised me a lot. I knew it was a drama and that it involved teenagers, but I wasn't ready for what awaited me. Indeed, the main characters are in high school , but they don't have the typical teenage life that we are used to watch on shows and movies. They are involved in sex, drugs and alcohol in a way I've never seen before on screen and actually much more accurate and close to reality.
I'm not saying every student in high school lives such a decadent life, but honestly there is so much at stake in terms of image, notoriety, what everyone thinks of you, the fact that you are still a kid, but also an adult makes me beleive it is impossible to live this period of life without some bumps on the road. Euphoria opens the door to a world that we don't want to be confronted to: mental illness, hard sexuality, violence, addiction and loneliness.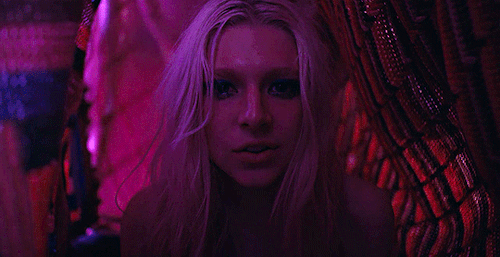 You follow the lives of different teenagers all struggling with something hard in their lives. As they try to handle their suffering, they also want to try to enjoy the simple things in life such as love and friendship. Some of them find freedom in their dreams and friendships while others want to escape their reality ith drugs and or violence. The show approaches modern themes such as transgender people, the struggle to understand your own sexuality, mental illness in such a powerful way that you really understand how some people struggle with some of this issues even though you have never experienced them before.
The characters are all incredible. From one episode to another you can find yourself loving them and then hating them. Understanding their choices and then completely criticising their acts and thoughts. This only shows how human being are: complicated, inconsistent and not always rational. One of the main characters, Rue played by the amazing Zendaya, represent exactly what I'm saying. Her addiction to drugs, but also to love is so understandable, but at the same time so frustrating to watch. Besides, the actors did an incredible job portraying these characters living such hard lives, beautiful lives, human lives.
In short, just wow. I wasn't expecting to me so moved by a show like this. As you can imagine I completely recommend this show but not to everyone. If you are also struggling with something in your life it might be too much to handle. And if you are not in the mood for real drama and many tears, this is not the show you should be watching right now. However, I really think everyone should at least watch the first season at some point in their lives to understand how difficult it can be for some people just to be happy.
This is all for today My movievaures. I really hope you enjoyed this article today and let me know if you agree with my views on Euphoria. Next week, as promise I will write my review on Tenet, Nolan's latest movie. In the meantime, feel free to follow me on Instagram (the_movievaures ) for the latest movies' and shows' news!