Hello, My Movievaures! I hope you had an amazing start to the week. As you can see by my tone, I'm very glad to be writing an article today about Disney's latest animated movie: Encanto. The movie was indeed released in 2021, but I just had the opportunity to see it in theatres a couple of days ago and it was a very moving moment. The main song even outperformed "Let it go" from Frozen in the rankings. So… was it that good? Let's get into it!
Encanto tells the story of The Madrigals, a Colombian family gifted with magical powers after the grandmother was chased from her home and lost her husband in tragedy. This magic has gifted every child in the family except for Mirabel, an enthusiastic, full of good intentions but clumsy young girl who will become The Madrigals only hope when their magic will start fading away…
What I particularly loved about this story is that it avoids the simplistic view of good vs evil we usually have in Disney Movies. For once, the danger and adversity come from within, giving space to interesting character growth and plot development. The themes around family are approached with a sense of originality not only showing family bonds as being perfect. With solidarity, love and a sense of ownership come also peer pressure, jealousy, and high expectations.
Of course, no need to mention that the songs are really catchy and the visuals are astonishing. I don't really enjoy musicals, but it never felt annoying and quite surprisingly I found myself enjoying most of them. The fact that is also set in Colombia, with the jungle vibes and colorful landscape really brings joy to the overall experience. In addition to all this, seeing a young woman being the main character, is always very refreshing.
In short, Encanto is a moving story about family and the complexity of its relationship. The characters, even though perceived as a bit stereotypical, are all interesting and bring something to the storyline, which in turn is quite an original one. The music, the colors, and the ending are heart-lifting, allowing you to leave those characters with a big smile on your face.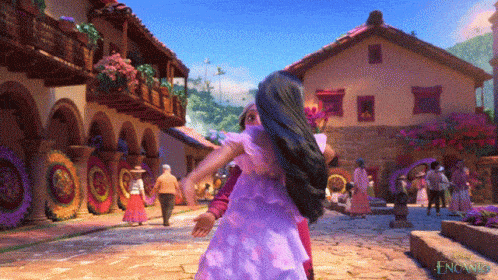 This is all for today My Movievaures! I hope you enjoyed the article and let me know in the comments down below if you appreciated this new Disney as much as I did. I'll see you in a few days for a new article on my blog, but one the meantime don't forget to follow me on Instagram for more news and live reactions!