Hello My Movievaures! I hope you had an amazing week and weekend. I'm back with a new article on one of my favorites / weird shows I've watched lately: The End of the F***ing world. It might be surprising for you that I'm writing about a show released in 2017 and finished in 2019. To be honest, I did not really planed to write about this show. My first choice was Outside The wire, but the movie was so bad that I didn't have anything to say other than, "you'll waste your time". Moreover, I finished this show not so long ago, and I really wanted to write about it for those who haven't heard about it or are still hesitating to watch it.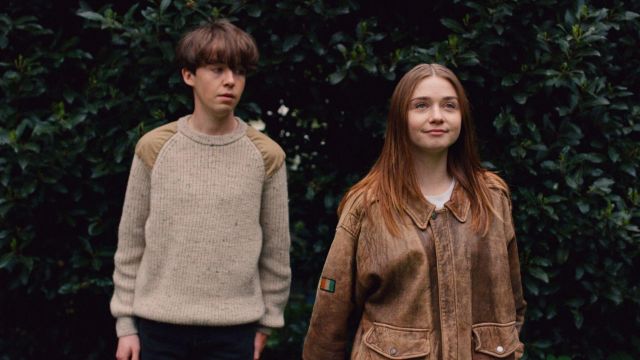 The End of the F***ing World is a British dark comedy-drama based on Charles Forsman's mini-comics The End of the Fucking World, which were collected into a book in 2013. Netflix handled international distribution and released it internationally on 5 January 2018. Since its release, the show has been praised by critics and the public, with a 93% rate on Rotten Tomatoes, and 8.1/10 on IMDb. It is completely deserved! At first sight, this show is not really appealing. The story is quite strange and not everyone is sensible to British humour. But let me tell you, it is a golden nugget.
Throughout two seasons, we follow James (AKA Alex Lawther), a 17-year-old who believes himself to be a psychopath, and Alyssa (AKA Jessica Barden), a very angry and sarcastic classmate who sees in James a chance to escape from her horrible family life. They decide to leave everything behind as they don't seem attached to their current lives and decide to go on a road trip in which they will encounter many problems and dark obstacles. None of them left for the same reasons, but they will grow closer, question some of their believes and desires, and learn more about life, relationships and love that they've ever did before.
Let me tell you, this show is really dark. But very funny at the same time. The dialogues are simple, however effective. The humour is completely British, but I believe even those who usually don't like it, will appreciate this show as the characters are moving and the creators have done an amazing job with the their development. It has really strong themes such as trauma, sexual violence, family struggles, toxic relationships… nevertheless the show covers them with the seriousness they deserve, but the lightness needed so we don't feel overwhelmed as spectators. Moreover, the show creators decided to have short episodes of around 20 minutes which I really liked, creating urgency, never being boring and forcing us to come back for more!
In short, The End if the f***ing world is an amazing show. My brother recommended it to me a year ago and you how it is, there are so many new releases that I never had the time before two weeks ago. Nonetheless, I believe it will be a shame for you to miss this show as it is high quality and some of the new releases are really less interesting and exciting than this show. Don't be afraid by the dark trailer, the old-fashioned looks and the weird characters; this show is completely worth a shot!
This is all for today My Movievaures! Let me know in the comments down below if you've already watched this show and your thoughts on it 🙂 Next week, I'll be back with a new article on something more recent. Hopefully, it will not be as bad as Outside the Wire! Feel free to join me in Instagram (the_movievaures) for some hints on what my next review will be about!