Hello My Movievaures! I hope you had an amazing week. I'm back with a new article on my favorite time of the year: Christmas! I'm so excited! As you can see I really love Christmas, and more specifically all the cliché stuff about it: the Tree, the music, the food, the gifts, the family-time and of course, the movies. So today, I'll be sharing some of my favorite Christmas movies of all time. Of course, you might have seen this list elsewhere, but this will cover all the movies I absolutely watch every year in December no matter what. So let's get into it!
How the Grinch Stole Christmas
I was exactly 6 years old when this movie came out and I absolutely loved it. I was big fan of the cartoon released in the 60's so I already knew the story, but let me tell you Jim Carrey completely convinced me as The Grinch. This green-furry creature who hates Christmas as well as the citizens of Whoville who actually enjoy celebrating it. His goal: still Christmas.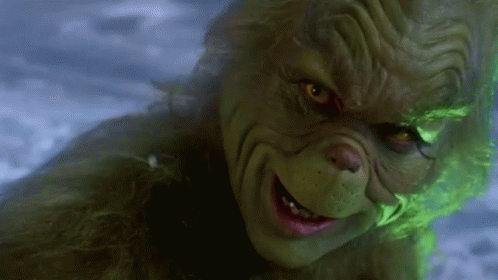 This movie is hilarious, with of course Jim Carrey doing an amazing job of being as grumpy and despicable as possible. The older you get, the more you understand this character who is lonely and wants to get revenge. The whole fantasy universe is adorable and you can only feel happy at the end of the movie, surrounded by all the Christmas energy and friendship.
The Nightmare before Christmas
You can see that I become a child during this period of time and I completely own it. During Christmas break I love waking up in my cosy pyjamas, drink hot chocolate and watch all the cartoons with a Christmas theme until I need to transform again into an adult. So you will not be surprised to know that I really enjoy watching The Nightmare before Christmas, from Tim Burton.
This movie is actually perfect as you can watch it both at Halloween, Christmas or in between those festivities. It is a stop-motion animated musical dark fantasy which tells the story of Jack the Skeleton, the Halloween king who feels kind of depressed and seeks another meaning to his life. So he decides to kidnap Santa and takes his place to show he can do a better job than him during Christmas. In contrast to the Grinch, Jack really wants his Christmas to be a success, but things will not go as expected…
This is a classic! How can you consider yourself a Harry Potter fan if you don't watch the entire saga during this period of time? Well I specifically pointed out the first three movies: The Philosopher's stone, The Chamber of Secrets and Prisoner of Azkaban. Why? Because those remind more my childhood with Harry, Hermione and Ron baby faces discovering the whole magical world.
Of course, this movies are not about Christmas in itself, but we can still find all the magic surrounding it as well as magnificent scenes of snow and festivities' decorations. This is all about going back to childhood and hope that when you'll turn 11 you will receive a letter form Hogwarts! And of course, you can keep the momentum and watch the 7 movies, if you have the time before Christmas eve.
Another classic, but this time completely centered on Christmas. Who doesn't know Home Alone? This 90's Christmas family comedy has been a MUST of this period of time. It has all the ingredients: Christmas decorations, funny moments, endearing characters and little dose of fantasy. I've always loved this movie and even thought I know it by heart I still enjoy every minute of it!
I'm not sure I need to say what this movie is about, but just in case: Home Alone is the story of 8 year old Kevin who is accidentally left behind by his extended family who leaves for a Christmas vacation. Believing his dream has come true, he starts enjoying all the fantasies of a kid being alone at home until a pair of bulgars try to get into the house to rob the residence. He is then forced to defend his home no matter the cost.
This is all for today My Movievaures! You now know my favorite Christmas movies of all time. Let me know in the comments down below which are yours. I really like this time of the year even if it is cold outside as all my good childhood memories come back and I'm lucky to spend it with my family. I hope this is also a good time for you and your dreams. Join me on Instagram for more news and posts (the_movievaures). See you next week for another article on The Movievaures!