Hello, My Movievaures! I hope you are doing well. I'm back for a new Mandalorian review, season 3. Feel free to read my previous articles on seasons 1 & 2 before getting into this one. It will be full of spoilers as you can imagine so make sure you've watched on Disney +! Anyways, let's get to it.
You know my love for Star Wars and how much I enjoyed The Mandalorian previous seasons. So, I was thrilled to watch my beloved Grogu and his protector again on screen. I'll be honest, I'm not a complicated person and I can have a good time, even if the content I'm watching is not high quality. Why am I saying this? Because you will rarely hear me saying I hated a movie or show.
Therefore, YES, I enjoyed watching this latest season. Do I think it is great? Not really. Do I believe the previous seasons were much better? Of course. Will I spend all my time saying that since Disney bought the franchise things have gotten worse? No. Yet, I can easily say that I agree the fan service has drastically increased this season, and not in a good way.
Grogu and Din Djarin's relationship didn't really progress, and the whole "I will become his father now" seemed a bit offset. Mando, you were already his father. Bo-Katan's character was also underutilized, as she didn't truly struggle to get back her position as a leader. Finally, having Moff Gideon again as the main villain was too repetitive.
However, not everything was bad, far from it. I enjoyed Bo-Katan and Din Djarin's relationship. It was also pretty cool to see Grogu fight and communicate thanks to his robot exoskeleton. Not to mention some pretty nice fight scenes with the Mandalorians and the whole expedition to reclaim their planet.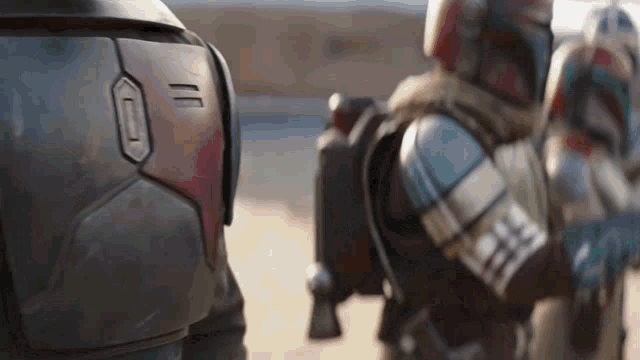 In short, Season 3 is by far the weakest season of all. The fan service was anything but subtle and it felt like the whole point of the second part of the season was to give more substance to the whole cloning storyline. None of the less, you can still enjoy some of the things that made The Mandalorian such a great show; Grogu among others of course. This is all for today My Movievaures! Let me know in the comments below your thoughts on this season, and I'll see you next week for a new article. Stay tuned!