Hello, My Movievaures! I hope you had a great week and had the chance to read my latest review. Today, I wanted to share my thoughts on John Wick's latest movie, which I had the opportunity to see in theatres last weekend. Gosh, what an experience! I know it can be weird to be able to enjoy a movie like The Whale and also love seeing Keanu Reeves crushing someone's bones. That's the magic of cinematography!
There will not be a non-spoilers section today, as this is the fourth movie of the saga. None of the less, this shouldn't discourage those who haven't watched the rest of the movies from going and seeing this one, because everything you need to know about what happened before is explained subtly by the characters' dialogue. And let's be honest, it is not the most complex thing to understand. Either than focusing too much on the story and some of its inconsistencies, you should enjoy the visuals overall.
This neo-noir, action storyline culminates with this last movie, especially when it gets to the scenery. We still follow John Wick in his quest for freedom and a violence-free life, which seems impossible to everyone, including us the spectators. This redeeming pursuit is beautifully expressed through a series of encounters with John's old friends and enemies, all around the world allowing us to experience incredible combats in the most beautiful places.
Every scene seemed inspired by a Manga or an adult comic book. The dialogues, were brief but explicit and impactful leaving our attention on the most amazing fights I had the chance to see since Ip Man. All, are choreographed in a way that you can understand everything that happens on-screen even if we have more than 50 characters fighting at the same time. However, you could argue this was also the case in the previous films.
So, what makes John Wick 4 any different? Again, the scenery. The contrasting colors, the astonishing buildings, the music, everything was perfectly built to create a different experience. One where your desire for brutality will be satisfied, as well as a poetic sight of this universe. In the end, you will not only see the story of the most dreadful man, killing everyone getting in his way of redemption. You'll see a man, desperate to escape his nature, which terrifies his enemies and rallies his oldest and most faithful friends.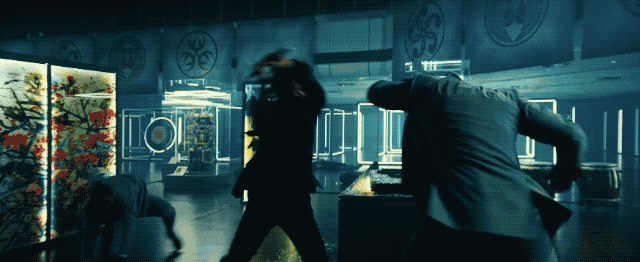 In short, John Wick 4 is a masterpiece in its own genre. Probably some people will be horrified to read this article, but I don't care. I will never give more importance to a type of movie, just because it seems smarter or exclusive. Action movies can be great, and this is one example. Everything was done perfectly: the combat scenes, the character development, the casting choices, the music, the scenery, and even the ending, which is always a bit tricky. I believe this was what this character needed to be redeemed and even if it could be the easy way out, at the end of the movie you actually feel like it is the only one.
This is all for today My Movievaures! I truly recommend this movie to every action fan out there. Let me know in the comments below or on Instagram your thoughts on it if you've seen it. In the meantime feel free to read my other reviews if you need some inspiration and follow me on Instagram (The_movievaures)! See you next week on The Movievaures.