Hello, My Movievaures! I hope you had a great week. As the first month comes to an end I wanted to finish it with one of my favorite movies of 2022: Guillermo del Toro's Pinocchio. I wasn't really expecting to like this movie, because I've never been fond of Pinocchio's story and after Guillermo del Toro's latest disappointment (Cabinet of Curiosities) I wasn't looking forward to this new work in his catalog. Well, it was a mistake, but I'm glad I did give it a try! You know the drill now, let's get to the non-spoilers part:
Most of you already know Pinocchio's story, mainly through Disney's adaptation of 1940. Guillermo del Toro's version keeps the main storyline but adds a touch of originality and relevancy. Set in fascist Italy, a father's despair will be the source of a magical event bringing one of his wooden creations to life. In his grief, he will need to learn how to face the challenges of raising such a strange boy while he tries to find his own place in this world.
I'll tell you now, this movie will leave you in tears, even when you already know the story. It incorporates many elements of the original story, of course, so that's a good allusion to its origins, but manages to add a sparkle that makes it more emotional. For instance, the fact that we spend so much time with Geppetto and his son makes us even more moved by the tragedy that we all know will come. Also, the fact that Pinocchio is as annoying and sometimes selfish at first, as the authentic character is, helps his development through the story until he becomes a better version of himself.
And not only the characters are endearing, but the whole environment is magnificent. The puppets are as beautiful as they can be disturbing at certain times. We are used to Guillermo del Toro's strange creatures, but I must say I loved the aesthetics of the two sisters' goddesses, yet they creeped me a little bit out. But let me tell you, even if you know this is a stop-motion movie and that even human beings are not truly realistic, it doesn't prevent us from having huge empathy for all of these characters.
Lastly, I will state that without being the most subtle, this movie manages to convey some relevant messages about family, grief, honor, friendship, and the collateral victims of wars that most people don't understand anything about. Geppetto and Pinocchio's relationship is as chaotic and loving as most father-son relationships can be. The secondary characters are also quite intriguing, and special mention of the Fascist father who enrolls his own son in the army just to see him die… Indeed, this is not a movie for kids!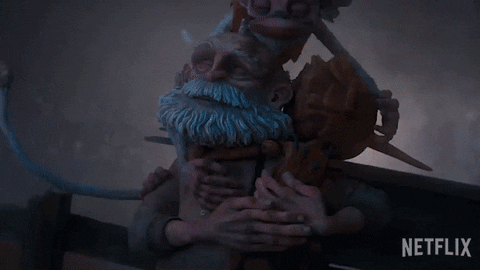 This is all for today My Movievaures! I hope you enjoyed this article and let me know in the comments down below or on my Instagram post your thoughts on this movie. I'll be back next week with more content on The Movievaures! Have a great week with lots of amazing stories and some good popcorn!