Hello, My Movievaures! I hope you had an amazing week. I'm back with a new article on one of the most successful shows on Netflix: Bridgerton. I've already made a review on season 1, but with season 2 being released a few days ago, I actually wanted to explore the reasons behind this huge success. So, let's get into it!
Bridgerton's success is 100% based on fantasies. I don't know how to feel about this show, to be honest. On one hand, you know that I don't judge movies/shows' tastes and I indulge in some bad shows from time to time. On the other… well this show doesn't really expose women in a good way. Don't get me wrong, there are so many shows out there enhancing feminine clichés, but at least they don't (always) try to proclaim themselves, feminists. This second season focuses on newcomers: Kate and Edwina Sharma, and to be honest this is quite refreshing, but not enough to make me believe this show deserves its fame.
As I said before and on my first review of season 1, Bridgerton, the entire show is based on what I thought were misconceptions of love and sex. However, seeing the sensation during the first and now the second season on the internet, this shows clearly reflects what most people want to watch when they want to dream a bit and empty their minds. As I said before, there is nothing wrong with that, but again with Shondaland's shows, the issue is proclaiming you are something else than just that: a simple and goofy entertainment.
At first, is quite disturbing not to be focused on Simon and Daphne anymore, as the main storyline is centered on Anthony, Bridgerton's firstborn, and his quest for a suitable wife capable of representing well his family and status. Unlike his sister, Anthony does not seek love, and when the Queen finally announces the diamond of the season, his only goal is to court her and make her his wife. However, he wasn't expecting to face so much resistance from the diamond's sister: Kate Sharma. This opposition will not only bring many headaches but also what he fears the most; falling in love.
In my opinion, the main characters of this season are a bit more interesting and profound than before. None of the less, Bridgerton being what it is, we are yet not out of the woods when it comes to basic clichés. Moreover, when you compare it to the first season, the storyline development here is pretty much predictable. This didn't really bother me, because I'm not expecting it to be outstanding and at least it respected what it truly is: simple entertainment. However, I thought I was going to be more implicated with Eloise's story, as it is the year she is presented to the queen and she hates every bit of the traditional system. However, I didn't see any real development from season 1, as it is for the rest of the Bridgerton family and Lady Whistledown.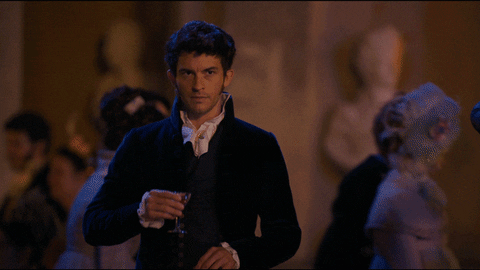 This is all for today my Movievaures. I know that there are a lot of Bridgerton's fans out there and don't get me wrong, I enjoyed watching this new season, but I'm still disappointed it is one of the most-watched shows on Netflix as they will continue to invest in "meeh" shows instead of releasing better content. Anyways, feel free to give me your opinion in the comments down below, and also don't forget to follow me on Instagram for more!