Hello My Movievaures! I hope you had a good week. Its already end of August… I can't believe how fast time goes by. Especially when you are having fun, and throughout all my trips I had the chance to discover some new shows that I'll be reviewing today: Sky Rojo and Valeria. As you can see these are two Spanish shows and you know my love for it! So let's get into it!
This show is madness! After running from their pimp, three prostitutes leave a trail of bodies behind them to find freedom and for some of them redemption. As simple as this storyline seems, it leds to a series of absolutely unreal events that unravels so many different emotions on the viewer: disgusts, anger, joy, surprise… As the whole series is actually, a mix between hilarious scenes, violent parts, sometimes a bit of despair and mainly some badass chicks fighting against the world.
What I loved about this show? The crazy dialogues with soo many bad words, the way prostitution is described as a business as well as a sort of slavery and how the main characters, women, are forced to be violent as they live in a violent world. The action scenes are bloody and absolutely crazy, with amazing music and colorful scenes. This is show is about women being mistreated and how they revolt against it.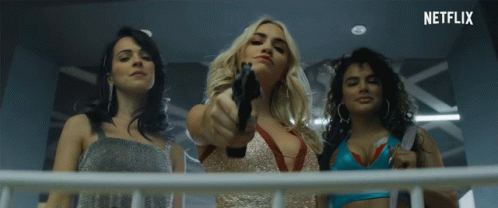 This is a complete different show. It is also about women, but in a less violent world. We follow Valeria and her group of friends as they try to navigate through difficult relationships, job struggles, family issues and for the main character and unfulfilled sex life. This show is based on a book from Elísabet Benavent that I haven't read, but this show was generally acclaimed by its accuracy and great casting.
This show is light and fun. The characters are endearing and interesting, developing their personality from episode 1. The dialogues are fun and bold, and the conversation about sex, especially between the girl friends are super realistic. No more of the fantasy sex life no one really has, this show is about real pleasure and real fun between two person. I loved this show because it really lifts my spirits every time I watch an episode, and season 3 will soon be available!
In short, both of this shows are about women, but in very different ways. However, they are entertaining in their own way, with fun, action and a group of friends that will show the whole power of female friendship. This series are available on Netflix, and are not yet finished so you can start it whenever you want and catch-up before the next seasons will be released soon.
This is all for today My Movievaures! I hope you liked this article and let me know in the comments down below if you like this format regrouping different shows. Also, follow me on Instagram for more news and live reviews. I'll be traveling the entire month of September, but don't worry I will not miss our Wednesday and Sunday's dates! See you next week on The Movievaures!