Hello My Movievaures! I hope you had a good week. Today, I'm back with a new article on an exclusive on Prime Amazon: Fleabag. I will not be surprises if you tell me you haven't heard about this show, which is a shame actually. To be honest, I didn't even know it existed before end of last year, when I watched a youtube video from one of my favorite Youtubers (Regelegorila)who said so many good things about this show that I was really tempted to watch it. Therefore, I binge watched this hilarious show in just 2 days. Now, I'm just waiting for the new season to be released and honestly I cannot wait anymore.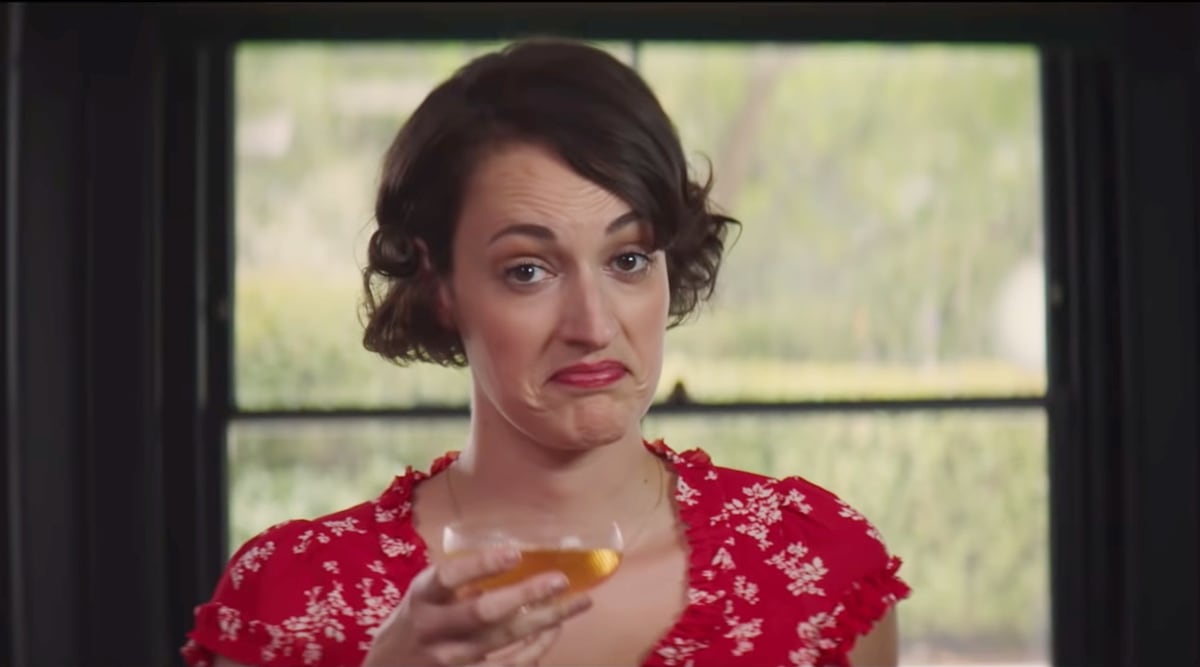 Fleabag is an original BBC comedy now available on Prime Video. It was actually produced by the main actress Phoebe Waller-Bridge, who is also a comedian, and she based this show on her one-woman show performed in 2013. You can see so much of her in this show, not only because she is the main character of course but because this show really emphasizes her point of view en everything that happens around her. So, as you understood Fleabag tells the story of Phoebe's character who is actually called Fleabag. She is in her thirties and tries to navigate life and love in London, but is not as easy at it seems as she is fill with grief, destructive behavior and psychological issues. Nevertheless, she is one of the most endearing character I had the chance to watch on screen.
She is absolutely hilarious, with the typical British dark and sarcastic humour. But she also has a dark side of her personality with a tendency to lying, being agressive, hide from her responsibilities and a very negative way of seing the world. Nevertheless, you can see she is sometimes aware of her bad behaviors and she always tries to be a good person, even though she sometimes makes some mistakes that will impact her and her loved ones quite a lot. We see everything through her eyes, so we can actually be biased by her feelings and reactions and not see exactly what reality is, but that is all the interest of this show; to get deep into Fleabag's thoughts and emotions. What is absolutely incredible is that she breaks the 4th wall, all the time, with very funny comments about the situation she is living, which makes us feel like one of her very close friends.
Every character in the show is actually disturbed in one way or another. Her sister is a control freak, her brother in law a pervert, her father an introverted and submitted man and her stepmother a narcissist and egocentric woman. Even the people, that she meets sporadically are all in a way, awkward and quite sad actually, but they all try their best. And that is the lesson you must take from this show: we are all human, with our weirdness, our faults and bad habits but we all (or mostly) try our best to move forward in life. Fleabag is a show about love, sex (a lot of sex), friendship, betrayal, addiction, family problems and even religion. Most of the time it feels very close to home as we identify ourselves very easily to the characters.
In short, give this show a chance. It is funny, reflective with an interesting character development and everything we love about our English fellas. I loved watching every episode and I'm waiting impatiently for the new season to be released, I hope by the end of the year. Do not let your prejudices about "independent women" shows influence you here. This show is feminist by essence, of course, but man or woman you could absolutely feel close to Fleabag in all our perfect imperfection. Give it a try, and let me know your thoughts on it!
This is all for today My Movievaures! I hope you enjoyed this article and if you did feel free to like and comment down below. I will be more than happy to get your feedback on it. See you next week for another review on The Movievaures and in the meantime follow me on Instagram (the_movievares) for more!