Hello My Movievaures! I hope you had an amazing start of the week. I'm back with a very special show I wanted to write about: THEM. It was actually released beginning of April on Amazon Prime, but because I had other articles planned I couldn't write an article on this incredible horror-drama anthology series before. But today is the day I'll be sharing with you my thoughts on THEM and how shocked I was after watching this show. So get ready!
Maybe you've watched movies like Get Out, US or Antebellum. All of this movies fall into the same category of African-American Horror movies. You know what they also have in common? Is that they are quite amazing. To be honest, I loved horror movies when I was a kid, however I'm not a fan anymore as I believe the quality has been going down and down. Or maybe I'm less scared, who knows? However, while watching the list of movies above, I was stressed out, had goosebumps, felt really uncomfortable and mostly surprised by the endings. So everything we should find in this genre.
THEM, can be added to this amazing list of horror-drama, with mainly African-Americans characters. However, what I absolutely loved about it, is that it is an anthology series with 10 episodes which really allows a good character development, a perfect unfolding of the plot until the final scene in apotheosis. Throughout approximatively 10 hours, we will follow a the Emory's, a black family who after living traumatic events in their home town in North Carolina, to a White neighborhood in 1953. However, they will not only face the horrors of racism and ignorance, but also malevolent forces which take their sources in their own home.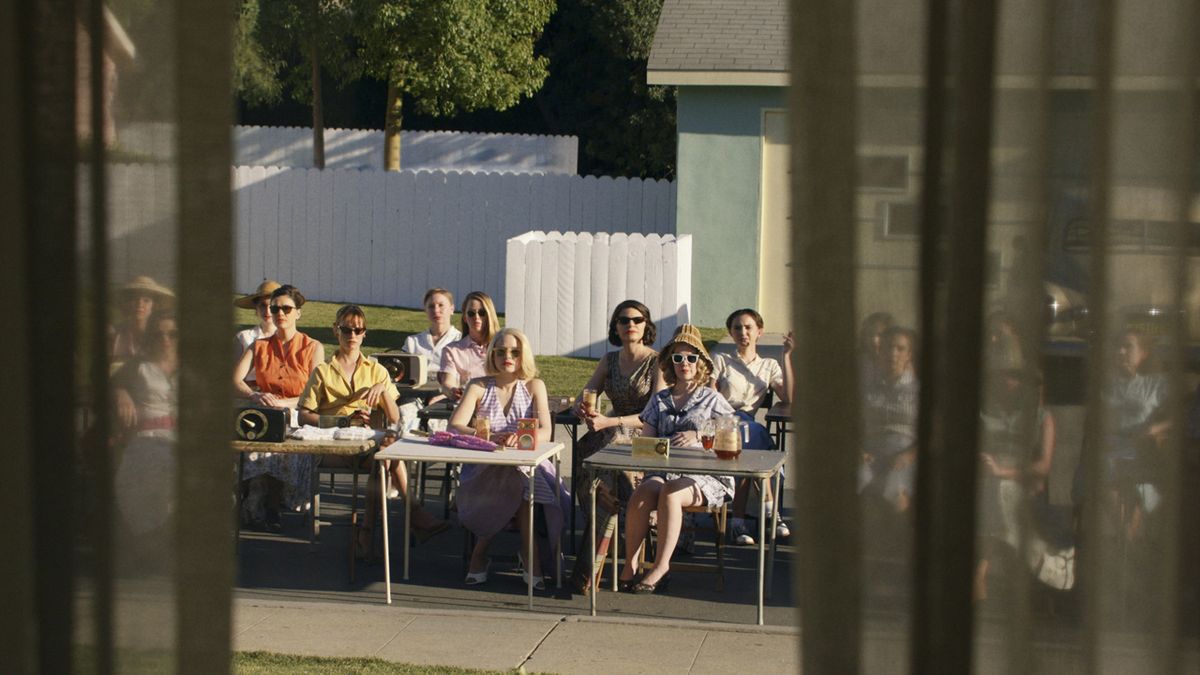 This show is way too extreme, violent and gore to be watched by everyone, even those who are over 18 years old. If you don't like shocking scenes, blood and just being scared 70% of the time, while being disgusted by human behavior for the remaining 30% this show is clearly not or you. To be completely honest, more than scared I was tense and stressed out, while also enjoying the quality of the plot and how well the story was being told through the eyes of the main characters. There was only one scene that was really too difficult for me to watch and I actually closed my eyes for a few minutes.
The main goal of this show is to shock and it succeeds to do it. However, it also points out how different the world, and especially the United States were in the 50's in regards to black people's treatment. How many white folks saw them as threats and sub humans. I'm not saying this is not true anymore, but it was generalized in society as a truth that was not really questioned. Of course, THEM pushes the boundaries very far away in order to focus our attention into the injustice this black family undergoes in every aspect of their lives.
To finish, I will mention the amazing performance of all of the actors in this show. Deborah Ayorinde, who actually appears the most on screen is absolutely convincing as Lucky, this traumatized housewife, who is as strong as she is broken. Alison Pill, this white racist housewife who so little in life that needs to focus all her anger and hate on the Emory's. Melody Hurd, aka Gracie Emory, the youngest of the family who is as cute as she is creepy. And of course, Christopher Heyerdahl or The Black Hat Man who will awaken the Emory's greatest fears and alter egos. All the actors gave everything in their roles and were implicated into the creation of this great and scary story.
In short, if you like horror movies and psychological dramas, you will love THEM. This show is as scary as it is interesting and fascinating. It points out historical injustices, strong racism and the "American way of life" of the 50's. The general atmosphere is heavy and uncomfortable. Even the colors are intense, whether it is shining or dark. I believe that for every horror movie fan, THEM is a must you need to add in your watchlist.
This is all for today My Movievaures! Let me know if you've watched this show already and which scene bother you the most in the comments down below. Also, join me on Instagram for more news and live reactions! See you next Sunday, for a new article on The Movievaures!.