Hello My Movievaures! I hope you had an amazing week. I'm back in London for a few days and for obvious reasons I'm also lockdown at home. Fortunately for me, a new show was released on Netflix end of October and I was quite curious about it: The Queen's gambit. Well, let me tell you one thing I feel quite empty and bored now as I smashed the show in one day as I absolutely loved it.
The queen's gambit was a risky bet: a show completely centered around chess, with a women leading role. I know feminism is rising, but unfortunately there are a lot of men who don't really like shows with a women as the protagonist as they don't identify to her. And what to say about chess? Well, I love it to be honest, even if I'm not good at it, but this is absolutely not the case of the majority of people. Nevertheless, this show managed perfectly the combination of both thus making everyone agree: The queen's gambit is an excellent show.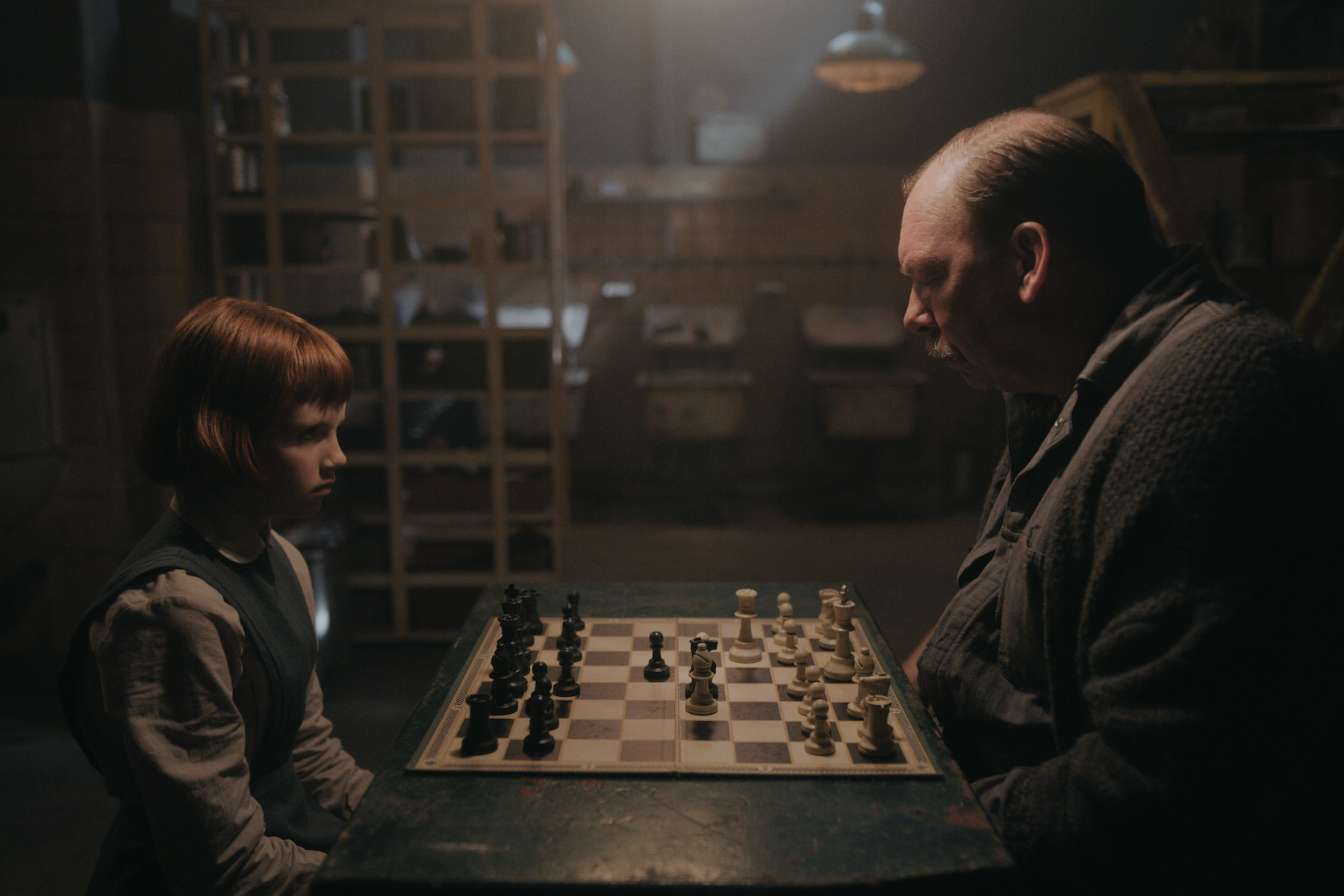 I would have never expected to be this excited by a chess game, but this is the magic of this show. We follow Beth Harmon, an orphan in the 60's with fantastic analytical abilities who learns to play chess in the orphanage's basement with the custodian Mr. Shaibel. We see her grow, becoming a chess prodigy as well as an addict with relational problems. Her genius is as beautiful as it is destructive for her. While she is magnificent when she plays chess, she clearly has issues when it comes to the real world. But that is the magic with prodigies and that is what we love them; because they are the best at what they do and therefore we accept the fact that they could be bad at everything else.
So this is a story of success and failure. Of family/friends/relationships and loneliness. A story of love and hate, and also a story of addiction in all kinds of forms. All of this played by incredible actors, like Anya Taylor-Joy starring as Beth. She is just perfect for this role. Her mysterious beauty and lean figure matches perfectly the idea of beauty during the cold war period. The way Anya plays Beth, with this clear confidence on her abilities, as well as her unbotheredness with social requirements, but with this clear sensitivity and weakness is outstandingly human. There is also Thomas Brodie-Sangster, who scared me at first as Benny Watts but quickly convinced me with his cocky personality but great friendship. I could go on like this for a while: Harry Melling is also surprisingly good as Harry Beltik, Moses Ingram too as Jolene, Beth's guardian angel and so on. This casting is in my sense perfect.
The storyline is incredible, the actors are the perfect fit, the way every chess game is filmed is as exciting as watching your favorite sport's team play the most important game of the year. But something I haven't pointed out yet is the setting. As I said before, this shows takes place during the Cold War era and while most of the show is about Beth's excellence in chess as well as her addictions, we also have a clear dive on that period of time: the amazing clothes, the houses' interiors with their heavy decorations, the haircuts, the fancy planes, the newspapers roles and the clear opposition between the USSR and the USA in every aspect. It is really interesting to see how a chess game has different stakes for everyone. It gets to a point where winning is take as a political win than an individual success. The way the show exposes this is really interesting and not cliché at it could have be done in others shows.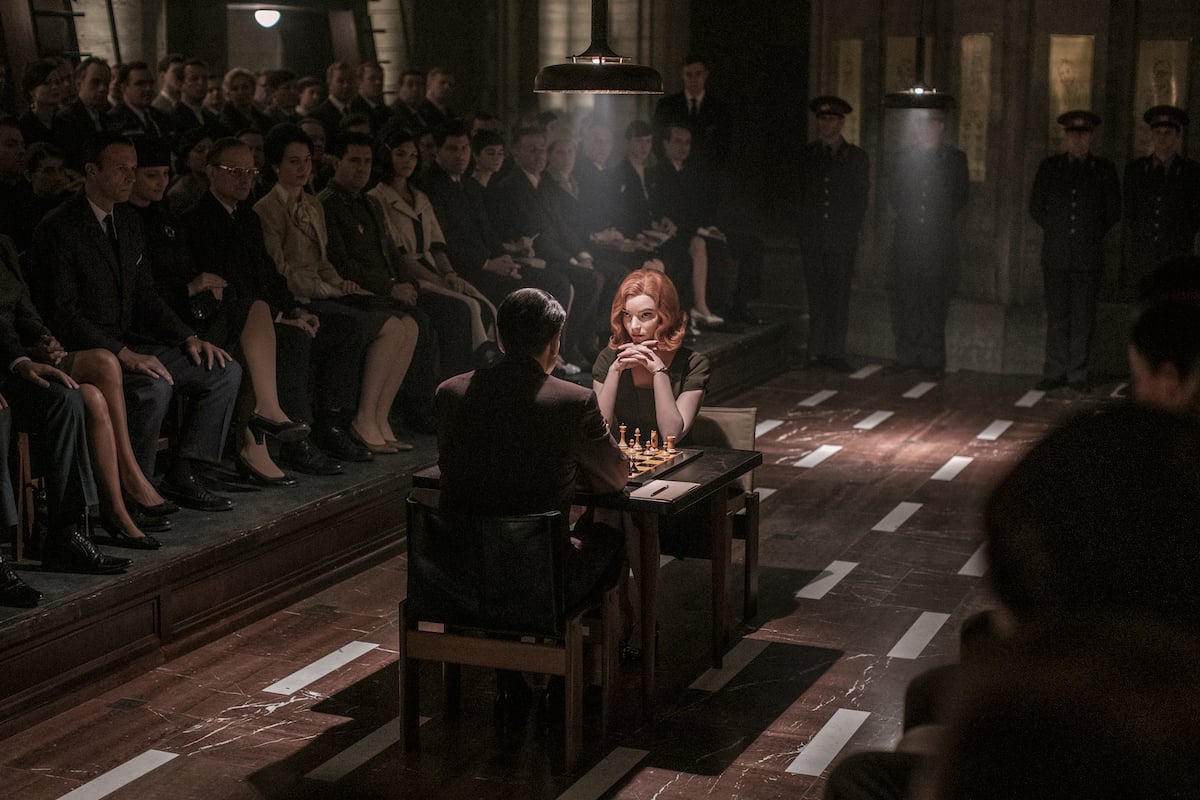 In short, The queen's gambit is completely worth your time. This miniseries has everything: a good plot (based on the 80's book of the same name), excellent actors, a magnificent set and really profound themes. You don't need to like chess or even know how to play to appreciate it. And it looks like everyone who watch it is convinced of the same, as critics and audience's rating is really hight. I absolutely recommend it!
This is all for today my Movievaures! I hope you liked this article. I was so excited to write about this show that I loved. Let me know in the comments down below or on Instagram (the_movievaures) your thoughts on it. See you next week for another review on The Movievaures!