Hello My Movievaures! I hope you had a good and spooky week. I'm so excited to be back with one of the most expected horror tv show of the year: The Haunting of Bly Manor. I fell in love with the first season, The Haunting of Hill House and when I heard that there was going to be another series of the same kind I was thrilled. Is it as good, as scary, as passionated? Well, let's get into it!
The Haunting of Bly Manor is not really a sequel from The Haunting of Hill House. This second season is focused on a whole different story. I will be honest, at the beginning I was kind of disappointed not to follow up on the Crain family storyline, as we felt so close to them at the end of season one. Nevertheless, I actually believe now that it was a better idea to leave it there and start another story, at least to preserve the beautiful and ambiguous ending of the remaining Crain family members. The best part of all of it, is that we have the incredible chance to see the same incredible actors play different characters, that are all the same, incredibly human and profoundly attaching.
"The Haunting of" series are apparently taking the same bet as American Horror Story to have the same actors in different storylines. I was just amazed by Victoria Pedretti's performance in Hill House, I'm even more astonish by her in Bly Manor. She is the center of many storylines that will surround her and will impact her life, that are as beautifully told, as they are dark and nostalgic. We also meet again with Carla Gugino, Oliver Jackson-Cohen and Henry Thomas, who played so well their characters in Hill House and are once again completely convincing in their new characters' skin in Bly Manor. I know it seems weird that I insist so much on the actors firstly, but I think it is important for you to know this and not to be shocked to see them again in a similar configuration but in different characters. You will still love their work in Bly Manor as most of the art of this show is based on their amazing performances.
As always, I'm not spoiling anything. Bly Manor, as Hill House is an experience that you should discover by yourself. Coming back to my first question regarding Bly Manor's quality in comparison to Hill House, I will say that it is quite complicated to be categorical. Hill House was our first experience of the series, therefore, the surprise will obviously not be the same for this second season. There was more fear and distress in the Haunting of Hill House, for sure. Bly Manor is more symbolic and poetic. It is a story about mourning and guilt. Of course, you will have some scary scenes and quite some good jumps (especially of you wait until nigh time to watch it), but you will be more focused on the characters suffering and difficulties.
You will still enjoy the whole haunted ambiance, with grey and blue tones, dark rooms, sudden noises and fixed shots on the characters while some ghost are following them. The music is also as beautiful as it is creepy and the kids laugh can sometimes make you cringe. The main storyline takes place, of course at Bly manor which is absolutely splendid (;)). Each room has a life of its own and it is a pleasure for our eyes to see days and night go by on thus magnificent manor. As I said before, even though you will find many similarities with Hill House, you will learn to enjoy this new storyline on its own and you will probably find it more poetic and touching on some points.
In short, The Haunting of Bly Manor is a magnificent show that has nothing to envy to the first series of "The Haunting of". The main plot is profound and interesting and the characters are really touching. Nevertheless, you should expect something less frightening than the Haunting of Hill House, with less theories around the plot. I will say the story is simple but efficient and more symbolic than terrific. I absolutely recommend it.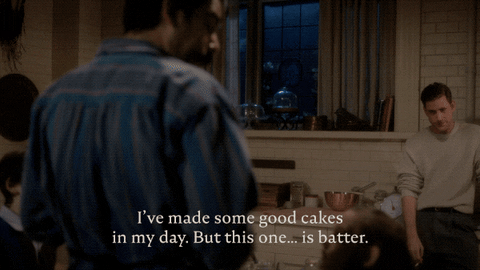 This is all for today My Movievaures! I hope you enjoyed this article. Let me know on the comments down below your thoughts on Bly Manor and if you liked it more than Hill house. Follow me also on Instagram for more news and regular reviews. See you next week!