Hello My Movievaures! I hope you had a great week. October is here and is actually one of my favorite times of the year for movies and shows. There are often many releases and new seasons coming up. Of course, it is also the spooky month and I love scary movies and shows. Nevertheless, today's topic will not be about this. As you may have heard, the name Holmes is on every mouth, article and video right now, but not the one you could expect. Enola Holmes has been released on the 23rd of September on Netflix and since then many people had a lot of things to say about this movie.
Is it a good movie, a bad one? Well, I will lean more for the first option, even though I don't think it is an amazing one. I believe, the reason is that I expected something more serious that what it actually is. To be honest I've never read the the Nancy Springer's series of the same name, so I'm not sure if they actually followed the same goofiness and storyline. Nevertheless, as I was watching the movie I realised that it was more teenage-type oriented rather than a real mystery film. It is funny, it is nice but, it is engaged but it is not serious at all.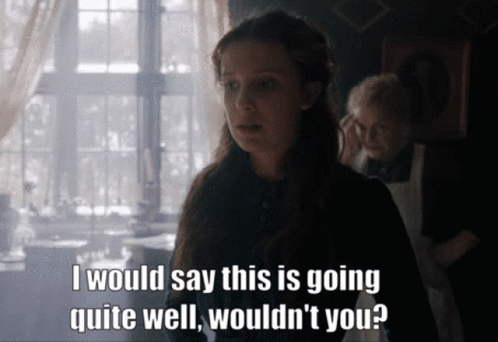 Is it bad? Absolutely not. I just think you should not expect the same ambiance that the whole Sherlock Holmes' storyline. Even the Robert Downey Jr series were darker than this one. In this movie you will follow Enola (obviously), the youngest in the Holmes' family, after her mother disappears leaving no trace, forcing her brothers to enter her life after years of absence. She will get to know more about them, sometimes at her expenses and she will learn how to be stronger and build her own path while looking for her mother strange disappearance and bumping into some unexpected friends on the road.
Millie Bobby Brown is absolutely perfect for this role. She plays this nice, naive, but strong-minded young woman who wants more of this world than being a housewife and at men's mercy. The rest of the crew is also a perfect fit. Sam Claflin as Mycroft is more than convincing and I believe he kept his moustache from Peaky Blinders' last season. I know some people criticised a lot Henry Cavill's performance as Sherlock but I quite disagree. He had the elegance, distance and empathy I expected from this great detective. It doesn't need to be completely accurate to the original book. If that is what you expect, well then, just read the book. Lastly, what to say about Helena Bonham Carter? She is perfect as always, doing a great performance of this strong but caring mother with convictions.
Indeed, this movie is not only about a mystery to solve, but it has a goal: give women their rightly place in this men oriented storyline. It is not anymore about Sherlocks' greatness, or how women can be saved by men. It's about having a strong woman character leading the way, having opinions, saving other people (yes men too) and showing to the world that you can also admire woman as cool and powerful characters. It is unfortunate that the movie is quite goofy and so many people will only see it as a good entertainment. However, I hope that it will help young people, especially young women to identify to this character and really understand that no one, no man, woman, mother, father or brother should tell us how to live our lives.
In short, it is a nice movie to watch, especially if you are tire of seeing depressing and complicated storylines on screen all the time. It is a beautiful story about a strong relationship between a mother and a daughter which we don't see much lately. It is funny, the acting is good and it is nice to see some good feminist characters that many young people can identify with. Just don't expect too much of it as I did, if not you will be a little bit disappointed. Just sit, grab some snacks, open the Netflix tab and enjoy the ride.
This is all for today My Movievaures. I hope you enjoyed this review on Enola Holmes. Let me know on the comments down below or on my instagram post (the_movievaures) your thoughts on the movie. See you next week for another article on the Movievaures.