Hello My Movievaures! I hope you had an amazing week. Summer is at its peak here in France and it feels like heaven.
This, of course, doesn't distract me from what I like doing the most: watching movies and shows. But I'll be honest, I've been spending most of my time outside lately so I haven't been catching up on every trend. However, I didn't miss The Old Guard, Netflix latest top trend.
To be honest, I started hearing about it just a few days before it was released on Netflix. I feel like the promotion was actually not that big, especially with the main start being Charlize Theron. I even think Extraction had more publicity. Maybe it is the current situation, or maybe it is just because I'm not paying too much attention lately to media.
In any case, the big question is, is it worth our time? Well, let me be straightforward: it is enjoyable but forgettable. Don't get me wrong, you will have a good time. There is action, a consistent storyline, and good actors. However, there is nothing about this movie that really allows me to qualify it as a "good movie".
But before going forward let me tell what the story is about: Immortality. I'm pretty much fascinated with this theme, as I wrote many years ago a similar story about a group of immortals fighting for what they thought was a good cause throughout History. And this is what this movie is pretty much about, a group of immortals that became so at different moments in time. They all protect each other and use their Immortality for good. However, for some of them, they start to realize that it is maybe not enough to save Humanity from themselves as they do the same mistakes over and over. After another immortal appears, they do everything they can to find her and protect them from those who seek their Immortality for what they call "the greater good".
Let me tell you, a storyline like that on paper is pretty good. You have powers, the potential for nice fighting scenes, and a good critic of society and its drifts. However, the movie doesn't utilize its potential and it doesn't satisfy our craving for more. They could have done a pretty good job with the plot, but instead, they treated every subject lightly and it is actually very disappointing. Especially knowing that on the action side, even if those scenes are pretty good, they are not exceptional so therefore you cannot say that you will watch this movie for the fun of enjoying good and hard-core action scenes.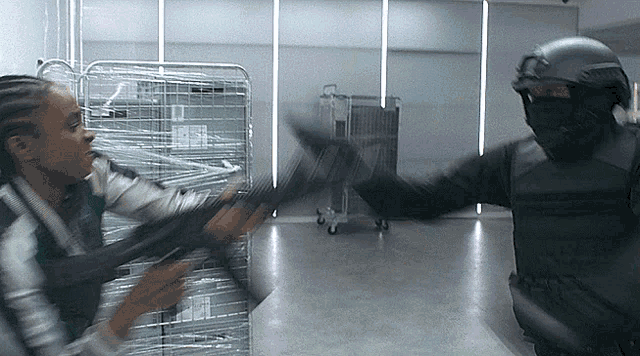 On the brighter side, I really enjoyed watching Charlize Steron again on screen. You can see she is an excellent actor as I enjoyed her character all along the way. Her relationship with the new immortal is also well written and this new character brings something positive to the table and is not just there for decoration. In the end, it seems like every actor had a good time playing and training for this movie and the result is that you will also enjoy watching them on screen for sure.
In short, as I said before: enjoyable but forgettable. I was listening to one of my favorite Youtubers (Regelegorila – French) talking about this movie and saying that it looked like a very good first episode for a TV Show and I completely agree with this. It is unfortunate that is two hours long and even though the end makes us believe there will be a second part, it is not the main goal of a movie to work as in introduction to the next one.
This is all for today My Movievaures! I hope you enjoyed this article and let me know in the comments down below your opinion on The Last Guard. In the meantime follow me on Instagram (the_movievaures) for more regular news on the latest movies and shows. See you next week!