Hello My Movievaures ! I hope you are all doing great.
Today I'm back with a new article on the latest and most viewed docu series on Netflix: The Last Dance. I've been watching shows and movies on this famous platform for months now and lately I can say I considerably increased my watching time: Unorthodox, Homeland, Exctraction, The Tiger King… the list is long, but to be honest it is not only because of the current situation. Netflix has been killing the game with amazing shows and movies, but also with docu-series such as The Last Dance.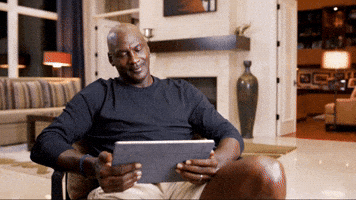 What to say about this mini-series… well, they are absolutely intriguing, exciting and passionate. Not only for basketball fans , but for everyone who admires competitiveness, passion, greatness and success. This series is dedicated to the Chicago Bulls team and the greatest basketball star of all time: Michael Jordan. It is true that there is much to say about Michael Jordan's story and this documentary gives us an insight into his mind in the present and in the past. We see (or discover for some of us) how he has always been a very competitive person and how that has always been his fuel, as well as his curse. You don't become Michael Jordan by not being that competitive, but you also need to live with the consequences of perfectionism.
However, what is great about The Last dance is that is not only a show that highlights Michael's greatness in basketball, even thought we can watch some of his amazing shots, dunks and strategies on the court. It also focus on the pressure of being this huge star, of how he helped NBA becoming more than an American franchise. We also discover more about his past and how close he is and was with his parents, as well as his other passions suchs as Baseball, poker and golf; all in which he could quench his thirst for competitiveness. Of course, you will also have a look into the different scandals the surrounded him as well as tragic events in his life.
But this is not a Michael Jordan's documentary, it is about the Bulls during their greatest years. You cannot talk about this team without giving great focus to Michael, but what it is a great for a non initiated to basket ball, as well as for the fans, is that we also get to know more about other amazing players such as Scottie Pippen, Dennis Rodman… And he staff members that helped the team become such a success, like their coach Phil Jackson. It is a story of camaraderie, teamwork and moral and sometimes physical support. We also get to know more about the Bull's history before they became such a great team, and how drafting Michael Jordan was not the only secret of their success. It was the team that won 5 championships and the whole suspense of the documentary is to discover if for their last dance they won, or not, their 6th between 97-98.
Of course, for fans and everyone who know already the story is not actually a suspend. Nevertheless, I spoke with many of my friends who are passionated by this sport and they told me that even thought they knew the end of the story, the way it was told, the back and forth jumps in time, the players testimonies of what happened at that time, maintained the momentum and the excitement until their last dance.
So, in short, this is not a docu-series only for fans and people who know the story. To be honest I didn't know even a third of what I learnt throughout the series. The shots are amazing, the music brings you back to the 90's, the insights of what is happening at that time thanks to the crew that followed them everywhere, combined to the players testimonials in the present creates one of the best docu-series that I've watched on a sport on Netflix. So if you haven't watch it yet, I completely recommend it and I believe it will also inspire you to greatness. 
This is all for today My movievaures! I hope you enjoyed this article on The Last Dance. If you already watched it, let me know your opinion in the comments down below. You can also join me on Instagram by searching the_movievaures. I'm more active there if you want to know more about movies and shows.
See you next week, for another review on The Movievaures.