Hello, My Movievaures! Days are getting longer and warmer. Even though confinement is still a necessity, it always puts a smile on my face to see a clear sky and sunshine. Especially, when I wake up knowing that Part 4 of La Casa de Papel is now available on Netflix!
I was so excited to catch-up again on this amazing show, especially knowing I had plenty of time on the weekend to binge-watch it.  It is difficult not tt. To be honest, sometimes I regret the time when you needed to wait a whole week to watch a new episode of your favorite show, at a precise date and hour. The rush in between two commercials to go to the bathroom and get some snacks before the show starts again. And then we have shows like La Casa de Papel (or Money Heist for the non-initiated) for which we need to have quick access to the next one, and then the next one and so on…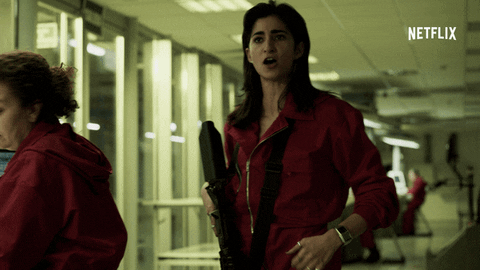 For those of you who don't anything about the show, or just have heard about it from your friends saying that is "THE BEST SHOW EVER", let me tell you, it might not be for you, but it is absolutely worth the try. This is a Spanish show, and I really recommend watching it in the original version as it is always more accurate, even if you don't speak the language. The ton, the voice, everything feels and sounds more real this way.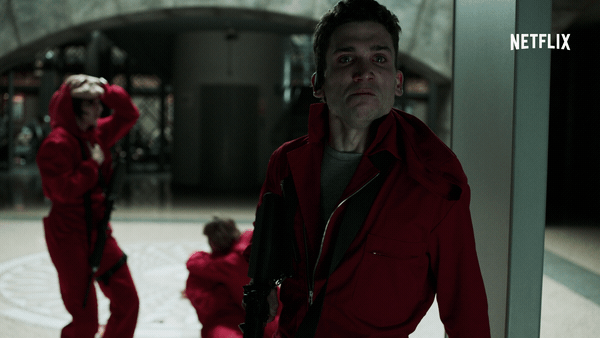 As always, I'm not here to spoil you but to give you my general opinion on this show. There are two seasons, split into 4 parts. We follow the story of multiple random characters, that led by The Profesor ("El Profesor"), decide one day to rob the Royal Mint of Spain. I'm not saying anything else, as you really need to discover the ploy by yourself to really enjoy the show.
However, what I will say is that this show is completely addictive. The characters are just amazingly endearing and they really make this show completely original. I cannot compare it to anything else I've watched. It is intense and violent, as well as romantic and poetic. The dialogues are funny, but also really profound. The images are also beautiful, with bright colors and multiple slow-motion scenes that emphasize how crazy the whole situation is.
In short, there is action, love, passion, violence, intrigue, twists and turns. An explosive cocktail that has been captivating millions of viewers. So I get it, maybe you don't want to be a sheep and follow what everyone says. I did the same with Breaking Bad. But when you like shows and your goal is to be entertained, just stop trying to be mainstream and give it a shot. It will be worth your time. 
This is all for today folks! I really hope you enjoyed reading my article and let me know if you also love this show as much as I do ! See you next week and good confinement for you all.